It's not exactly a topic being discussed around the water coolers of Wisconsin businesses or, in many cases, even in corporate boardrooms. But the issue of productivity and how to improve it is garnering more and more attention from business leaders here and around the nation, as the correlation between productivity and economic growth becomes clearer.
It's an issue that's playing out on the both the micro and macro levels. As individual companies strive to remain competitive in an ever-changing global economy, they're looking at ways to increase their own productivity to help them become more efficient and improve the bottom line. On a larger scale, experts say increasing productivity at the level of whole economies is imperative if Wisconsin and the U.S. hope to reverse the trend of stagnant economic growth over the last decade.
While the unemployment rate has continued to decline, U.S. economic growth—as measured by the growth rate of the gross domestic product—is significantly below historic levels. In the 1950s and 1960s, annual U.S. GDP growth rates averaged above 4 percent, then declined to around 3 percent in the 1970s and 1980s, and have hovered around 2 percent since 2014, according to data from the federal government.
Productivity measures take into account both the efficiency of workers and the effects of technology and other factors (see accompanying box for more about these definitions). As U.S. GDP growth rates have slowed, the annual productivity growth rate has seen similar declines (see "What is productivity?" sidebar). The average growth rate of productivity in the U.S. from 2007 to 2016 was 1.7 percent—well below the long-term average of 3.2 percent. And in the last four years, annual manufacturing productivity growth have been below 1 percent.
Those who study the issue say that not only is there a direct correlation between GDP and productivity growth, but below-average productivity growth also has a negative impact on wages and business investment.
"In the manufacturing sector, strong productivity performance is needed to meet the globally driven challenges of cost pressures and competitiveness," says Cliff Waldman, director of economic studies for the Manufacturers Alliance for Productivity and Innovation, a national organization that released a report on productivity in 2016. "For both manufacturing and the economy as a whole, the recent slowdown in productivity causes concern, because it contributes to both slow output and wage growth."
New initiative tackles the issue head-on
The Wisconsin Economic Development Corporation (WEDC) is working closely with the Wisconsin Manufacturing Extension Partnership (WMEP) and the Metropolitan Milwaukee Association of Commerce on a new initiative aimed at tackling the issue one company at a time—with a goal of ultimately having a statewide impact on productivity growth.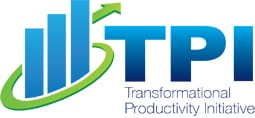 Called the Transformational Productivity Initiative (TPI), the public-private partnership is designed to improve productivity performance in small and midsize manufacturers throughout the state. WMEP will identify the factors that affect and limit productivity growth, and then work with individual companies to develop ways to increase productivity.
"Helping manufacturers be more productive and grow is the core mission of the Wisconsin Manufacturing Extension Partnership," said Tim Wiora, WMEP's executive director and CEO.
"This initiative will strengthen our capabilities, expand our partner network and provide a broader, more comprehensive community of resources to Wisconsin manufacturers to help them implement best practices and leverage the untapped promise of technology."
"Increases in productivity allow manufacturers to reduce their cost and ultimately price while maintaining profitability," added Randy Bertram, WMEP's director of sustainability services. "This leads to lower consumer prices and improved living standards. Increased productivity also helps manufacturers absorb increases in wages and benefits."
Kelly Armstrong, who is the project lead for WEDC, says the initiative has the potential to make Wisconsin a national leader in addressing the productivity issue.
"This strategic investment and comprehensive approach is groundbreaking in economic development," says Armstrong, director of sector development for WEDC. "TPI is a long-term strategy directed at moving the needle on productivity in the aggregate, working with small and midsize manufacturers in a way that will ultimately drive wage and job growth in Wisconsin."
While the program is still in the early stages, the ultimate goal is to increase productivity by between 30 and 40 percent at the company level. That's an ambitious objective, but leaders note that this effort will be patterned after WMEP's Profitable Sustainability Initiative (PSI), which helps manufacturers develop sustainable practices that save money and improve competitiveness. The first 100 companies to participate in PSI have collectively saved nearly $15 million annually in operational costs as a result of their participation; officials hope for similar success with TPI.
Business participation key to positive results
Those involved in the new initiative know they need to make a strong case to manufacturers about why they should consider participating in the program.
"The biggest challenge we face is to provide manufacturers with a straightforward, simple, common-sense model that helps them recognize where they are today, identifies areas where they can improve, provides them with a reasonable path toward improvement, and offers support resources," says WMEP's Bertram.
Some business leaders won't need much convincing. For example, Scott Lucas, president and chief operating officer of Racine Metal-Fab in Sturtevant, says productivity is an issue that all businesses need to take seriously.
"Increasing productivity helps businesses to compete locally and globally, and many times it can be the difference between success and failure of a business," says Lucas, a member of the TPI Steering Team.  "This program will help drive our company to develop initiatives to be better. If we are going to consistently be competitive in the marketplace, we have to sharpen the saw."
For more information about the Transformational Productivity Initiative and how your business can get involved, visit transformationalproductivity.org.