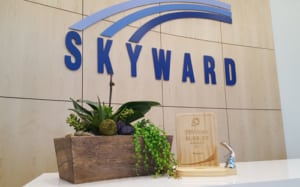 Founded in 1980 by Jim and Jean King, Skyward was started in the Kings' home in Stevens Point, Wisconsin. More than 35 years later, the company has evolved from its modest beginnings as a small family business into a global technology leader.  Today, Skyward continues to provide administrative solutions that are used by more than 1,900 public sector organizations worldwide, from small entities to statewide implementations supporting millions of users. Through a unique approach that blends thought leadership, best practices and advanced technology, Skyward is redefining what it means to be a strategic partner in the world of enterprise solutions.
Location: Stevens Point
Employees: 565
Founded: 1980
Leadership: Cliff King, CEO, and Scott Glinski, president
Market: Skyward's student information system (SIS) and enterprise resource planning (ERP) solutions are used by school districts and municipalities worldwide.
Business success: Skyward was nominated by the company's employees, then evaluated and selected by a group of young professional leaders from across Wisconsin, as one of the Top 10 Best Places to Work for Young Professionals. The Bubbler Awards, hosted by NEWaukee, shine a light on the companies' achievements in accommodating the interests and needs of younger workers.
Skyward exemplifies the type of leadership that will help establish Wisconsin as a destination for young professionals. Skyward's opportunities for advancement, employee engagement, and strong work-life balance are a few examples of why the company is a leader in ideal workplaces for young professionals.
Wisconsin business environment benefits: Skyward has built a leading position in Wisconsin by providing SIS and ERP software products to schools and municipalities. As the company expanded, it  moved forward to build a state-of-the-art, 190,356-square-foot world headquarters to expand its presence in the state. This expansion is projected to bring on more than 500 additional employees.
"We're grateful to have employees that continuously strive to improve our community, workplace and customer experience," says Cliff King, Skyward CEO. "Skyward is proud to call Wisconsin home and looks forward to the continued role we will play in growing the state's talent pool."
The Wisconsin Economic Development Corporation (WEDC) supported Skyward's expansion with approximately $3 million in performance-based tax credits.