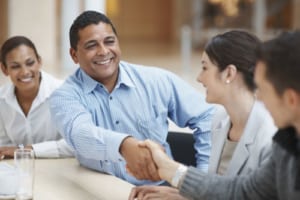 Today more than ever, connecting with entrepreneurs, innovators and creatives couldn't be easier thanks to technology. However, there is great value in face-to-face conversations, learning from industry experts and engaging in conversations with fellow entrepreneurs in the same room. Being surrounded by like-minded people can be a learning experience and networking is a crucial part of growing your business.
The right conference or event can be an invaluable means for networking beyond your immediate field and connecting with innovators whose efforts parallel yours. It is an opportunity to form relationships with incredible entrepreneurs, forge deals and gain the inspiration needed to reach your goals. Luckily, Wisconsin offers an array of entrepreneurial conferences and events to help you acquire the tools you need to help make your business successful.
"These events really showcase Wisconsin innovation and each brings the entrepreneur community together in a forum that is as inspirational as it is educational," said Dave Volz, entrepreneurship program director for the Wisconsin Economic Development Corporation (WEDC). "Each of these signature events offers a unique opportunity to connect with fellow entrepreneurs, learn from expert speakers on important topics and resources, and celebrate the entrepreneurial spirit."
Below is a list of upcoming events in Wisconsin:
Entrepreneurs Conference
June 6-7, 2017
Union South on UW-Madison campus, Madison
The Entrepreneurs Conference is a two-day conference and one of the Midwest's premier "how-to," hands-on events for entrepreneurs of all ages and experience levels. Attendees vary from entrepreneurs who are still developing their ideas to emerging company leaders who have already attracted angel and/or venture funding. These businesses cover a broad span of categories, from information technology to clean tech, from advanced manufacturing to the life sciences, and from business services to consulting. For more information, visit http://wisconsintechnologycouncil.com.
Forward Fest
August 17-24, 2017
Multiple locations, Madison
The Forward Festival is Madison's flagship technology and entrepreneurship festival. Created in 2010, it now attracts over 2,000 attendees and includes eight full days packed with more than 40 events organized by and for entrepreneurs. Join fellow entrepreneurs, nerds, designers, geeks, hackers, foodies and creative professionals from the Midwest in a celebration of innovation and entrepreneurship. For more information, visit forwardfest.org.
Wisconsin Innovation Awards
October 4, 2017
Wisconsin Memorial Union, Madison
The Wisconsin Innovation Awards (WIA) celebrate and inspire innovation. The WIA highlights and honors the development of groundbreaking ideas. If it is a transformational idea, we want to celebrate it. We hope to encourage an even greater environment of innovation by bringing innovators together from various business sectors (e.g. tech, food, health care, agriculture, nonprofits, education, government) and from throughout the state. For more information, click www.wisconsininnovationawards.com.
Launch Wisconsin
October 17-18, 2017
Lambeau Field, Green Bay
Launch Wisconsin is an exciting, innovative technology conference for small business owners, entrepreneurs, startups, investors and creatives based out of the Wisconsin area to learn, connect and take action. Launch Wisconsin's multi-track lineup of inspiring and knowledgeable keynotes, the challenging StartupPITCH competition and networking opportunities make this a great event for professionals of all industries in Wisconsin. For more information, visit www.eventbrite.com.
Early Stage Symposium
November 15-16, 2017
Monona Terrace Community & Convention Center, Madison
The Early Stage Symposium is an opportunity to make presentations and meet with investors, along with other entrepreneurs and business leaders. Many firms have cited participation in the conference as a key factor for significant business growth. For more information, visit wisconsintechnologycouncil.com.
SBIR/STTR Conference
November 7-9, 2017|
Hilton Milwaukee City Center, Milwaukee
The HHS SBIR/STTR Conference helps small businesses in the life science sector to learn more about over $870 million dollars of annual HHS funding that is available to forge academic partnerships and build new businesses based on recently developed biotechnology. This conference, hosted by MCW Clinical & Translational Science Institute (CTSI) this year, is the cornerstone of HHS's congressionally mandated outreach efforts under P.L. 112-81. Attendees discover how to successfully submit an application; tips for approaching partners and investors; the types of technical assistance programs HHS offers to awardees; and have the chance to discuss specific questions with HHS SBIR and STTR subject-matter experts. Details and registration for this event is not yet available, but can be found here once live.