SMART PAPER SOLUTIONS
Developing in parallel with our agriculture industry, Wisconsin's lumber and paper industry has shifted its focus from logging and railroads to conservation and sustainable practices. Today, Wisconsin's forest products companies are leading in environmental stewardship through reforestation, research and other practices to protect and maintain the health of the state's 17.1 million acres of forest, for the sake of both the economy and the environment. Through the Good Neighbor Authority program, U.S. Forest Service stewardship agreements and institutions like Forest Products Laboratory, agencies and local stakeholders are working together to ensure a robust supply of timber to the forest products and paper industries while supporting forest health. These efforts have resulted in our state leading the way in both papermaking and paper manufacturing employment concentration, offering many career options for those who love the land as much as we do.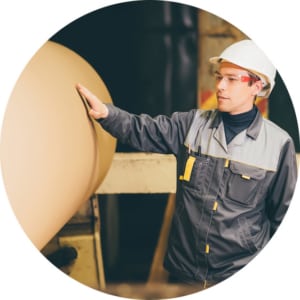 FOREST PRODUCTS LEADERSHIP
Wisconsin's timber industry stretches back to a time before Wisconsin became a state in 1848. Not only did the state's abundant forests fulfill the demand, its many waterways provided convenient transportation of harvested logs.
The state has continued to carry forward its rich history through supporting forestry education, a dedicated workforce and business-friendly policies for companies in the industry. The history of forestry education in Wisconsin is almost as old as the industry itself: forestry instruction has been offered at the University of Wisconsin since 1903. The state's educational system is universally admired, and the workforce is also well known for its industrious, Midwestern work ethic. Wisconsin also prides itself on being business-friendly, with a 0.4% effective tax rate on corporate income from manufacturing. Consider Wisconsin for your forest products company, where you will benefit from our deep history while being a part of our strong future.
#1
PAPERMAKING STATE IN THE U.S.
Wisconsin ships $13.8 billion worth of paper annually, maintaining the health of our forests and the economy.
Source: "State Industry Economic Impact: Wisconsin," American Forest & Paper Association 2018
#1
IN PAPER MANUFACTURING EMPLOYMENT CONCENTRATION
63,000+ jobs within the sector help produce $1.5 billion worth of forest products exported to countries around the world.
Source: Annual Private Employment 2017, QCEW, BLS; U.S. Census trade dataset via WISERTrade
17 MILLION
ACRES OF FOREST LAND
Forest land covers 48% of Wisconsin's total land area.
Forest Inventory and Analysis National Program
FOREST PRODUCTS SNAPSHOT
Download the industry snapshot, a one-page overview of key data and highlights showcasing Wisconsin's leadership in forest products.
Download
FOREST PRODUCT COMPANIES IN WISCONSIN
Ahlstrom-Munksjo
Amorim Group
Appvion
Arcways
Ashley Furniture
Cascades Inc.
Catalyst Paper
Corenso
Domtar
Kimberly-Clark
Kolbe
Kretz Lumber Co.
Sofidel
Stella Jones
Wholetrees
Wisconsin Veneer and Plywood
Marth Wood
Midwest Paper Group
McDonald Owen
Seda