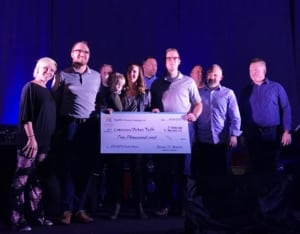 A crowd full of entrepreneurs, creatives, business professionals, organizers and investors gathered for the HATCH final on Thursday night in Stevens Point as part of Wisconsin Startup Week. The startup competition run by NEWaukee and BrightStar Foundation aims to convert promising ideas into business plans that launch new companies.
Each finalist had five minutes to pitch in front of four judges and a live audience. The audience members also had the opportunity to vote for their favorite business idea, with the audience vote counting as a fifth judge's vote.
After the judges deliberated, Arbré Tech and Caboosee were announced as co-winners and each collected a $5,000 prize. Beyond the prize money, HATCH provided an opportunity to get each business idea out in front of a supportive community.
"Winning is recognition of all the hard work that has gone into this product and shows more than just my family believes in me," said Emily Bloomberg, inventor of Caboosee.
"Thank you to HATCH, BrightStar and WEDC. Outside the check, this event is moving all the companies who participated forward to a bigger and brighter Wisconsin," said Matthew Vollmer and Ben Meyers, founders of Arbré Tech.
The event offered a collection of Wisconsin's most innovative startup resources access to an exclusive and unexpected venue, a network of Wisconsin's most creative and dynamic individuals and much more.
The HATCH finale included seven semi-finalists:
No Leak Siphon Flush Valve: Developed by Peter Parker and Landis Brozak, this a simple flush valve for toilets can reduce water leakage to zero. Parker and Brozak won the Stevens Point competition in April.
Arbré Tech: To automate the data-tracking processes used in tree nurseries, founders Matthieu Vollmer and Ben Meyers created a product that offers real-time inventory tracking, reducing labor costs and freeing up time for arborists. Vollmer and Meyers won the Wisconsin Rapids competition in May.
Unpublished.io: A web platform for building and sharing research projects, created by Daniel Packard and Maurice Woods III. Packard and Woods won the Wausau competition in June.
Tapped: Offers flavor-infused, natural maple syrups. Jeremy Solin and his family own a maple farm where they harvest the maple syrup through traditional tapping methods and then infuse the syrup with flavors including espresso, ginger, cinnamon, cardamom and red pepper. Tapped is being offered as a substitute to simple syrups and plain maple syrups throughout various coffee shops and bars in Wisconsin. Solin won the Marshfield competition in July.
Caboosee: A new clothing technology developed by Emily Blomberg that allows easier access to peeking into the top of a diaper without having to undress the child. Blomberg was a runner-up in the Wisconsin Rapids competition in May and one of the wildcards.
Cheiks: Underwear with revolutionary sizing. With three butt sizes for every waist size, Elizabeth Olson hopes to develop underwear that makes women feel comfortable and cute. Olson was a runner-up in the Marshfield competition in July and was one of the wildcards.
Feed Manager: An app developed by Carl Lippert to help farmers feed cows and manage everything involved. Lippert was a runner-up in the Stevens Point competition in April and was one of the wildcards.